Hand Boat Ride Booking in Varanasi | Rowing Boat in Varanasi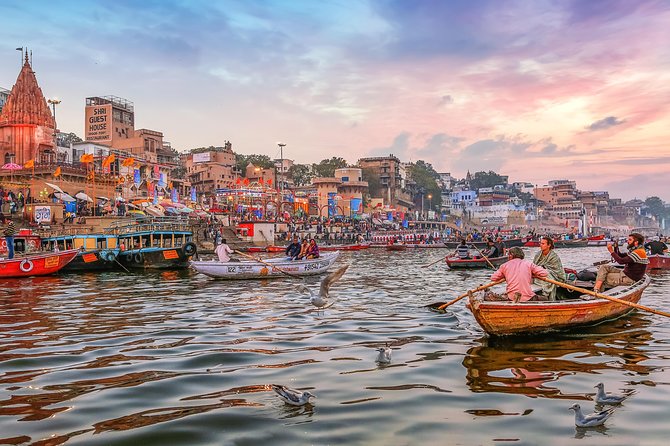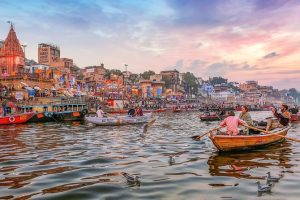 Hand boat rides in Varanasi are an age-old tradition, dating back to the city's ancient past.
Hand boats are small and can accommodate up to six people.
Hand Boats or Rowing Boats are manually powered by one or two boatman who sit at the rear of the boat and use their hands to row.
The Hand boats used for boating in River Ganga are typically made of wood, and they are beautifully crafted and painted with bright colors and traditional designs.
Kashi Yatra's boat ride service is a popular choice among tourists as it offers a unique perspective of the city's culture and traditions.
"The Hand Boat ride service is available throughout the day, but the best time to take the ride is during sunrise or sunset, when the city comes alive with vibrant colors."
The boats used for the Boat Ride in River Ganga are well-maintained, ensuring the passengers' safety and comfort. The Hand boats are equipped with life jackets and other safety equipment to ensure the passengers' safety. The boats are driven by experienced and trained boatmen who have a deep understanding of the river and the city's history and culture.
The boat ride takes passengers along the Ganges River, past the city's many ghats, each with its own unique history and significance.
Passengers can witness the various rituals and ceremonies that take place on the ghats, such as the Hand Boat Ride During Morning Ganga aarti and the Hand Boat Ride During Evening Ganga aarti.
The Hand boat ride also offers a glimpse of the city's iconic buildings and temples, such as the
Hand Boat Ride to Kashi Vishwanath Temple
Hand Boat Ride to Namo Ghat
Hand Boat Ride to Dashashwamedh Ghat
Boat Ride to the Ramnagar Fort.
Hand Boat Ride to Assi Ghat
The Boat ride service provided by Kashi Yatra is a unique and unforgettable experience that allows passengers to witness the city's rich culture and history from a different perspective.
Hand Boat Rides can be booked from various popular ghats of Varanasi
Hand Boat Ride Booking in Varanasi
Dashashwamedh Ghat - Famous for Evening Gangaa Aarti
Assi Ghat - Famous for Morning Ganga Aarti
Harishchandra Ghat - Cremation Ghat in Varanasi
Manikarnika Ghat - Most Popular Cremation Ghat in Varanasi
Hand Boat Ride Charges in Varanasi
Hand Boat rides Charges on River Ganga in Varanasi varies from person to person.
The charges for Hand boat rides varies From Rs. 1000 to Rs. 2500 depending upon the duration of the Boat Ride and how much distance you cover during the boat ride.
The charges for boat ride depends on the time and demand of boats like in Dev Deepawali Boat Ride Charges goes upto Rs. 50000 for Single Rides.
Why Choose Kashi Yatra as Your Hand Boat Riding Service Provider in Varanasi