Travel Activities
in Varanasi (Kashi)
Must Visit in Kashi

(Varanasi)
List of Varanasi Tour

Package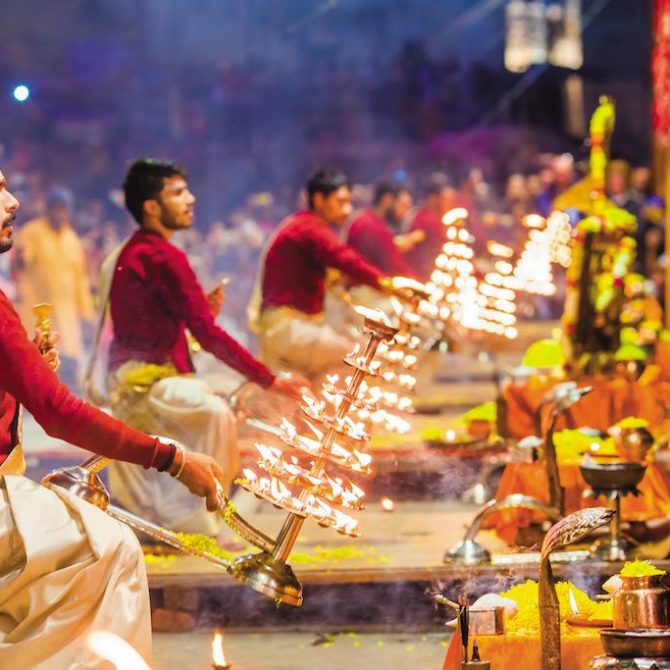 What is Kashi Yatra ?
Discover the spirituality and beauty of Kashi with Kashi Yatra - Best Varanasi Tour Planner.
Kashi Yatra is a renowned Tour & Travel agency operating in the ancient city of Varanasi, India and We are the best Varanasi Tour Planner.
As the name suggests, We are specialized in organizing trips and tours to various holy sites and pilgrimage destinations in and around Varanasi, also known as Kashi.
With a team of experienced and knowledgeable travel experts, Kashi Yatra offers customized travel packages that cater to the diverse needs and preferences of travelers.
Whether it's a spiritual journey to explore the mystical traditions of Kashi or an adventure trip to explore the natural beauty of the region, Kashi Yatra has something to offer for every type of traveler.
With a commitment to delivering exceptional customer service and ensuring a hassle-free travel experience, Kashi Yatra has earned a reputation as one of the most trusted and reliable travel agency in Varanasi.
How Kashi Yatra Work - Varanasi Best

Tour Planner
Travel Consultation

Our expert travel consultants will have a consultation with you to understand your travel preferences and requirements. They will offer recommendations and create a customized travel plan for varanasi tailored to your needs.

Booking & Reservations

Once you are satisfied with the travel plan, our team will take care of all the bookings and reservations, including flights, hotels, transportation, and activities.

Trip Preparation

We will provide you with all the necessary information and resources to prepare for your trip, including travel documents, packing tips, and local guides. You can also reach out to our team at any time for any questions or concerns.

Travel Experience

Sit back, relax, and enjoy your trip! Our team will be available to ensure that everything runs smoothly and that you have a memorable travel experience in Kashi. We will also fo Vinay Singh
Manager in HDFC Bank
Kashiyatra.in is a top-notch travel agency in Varanasi that offers a unique and personalized travel experience to its customers. From arranging local tours to providing accommodation, their services are outstanding. Their professional staff ensures a hassle-free journey, making it a go-to agency for anyone visiting Varanasi. Highly recommended! Rahul Sharma
Consultant at McKinsey & Company
Kashiyatra.in is a top-notch travel agency in Varanasi that offers exceptional travel services. Their team is knowledgeable, friendly and professional, making the travel experience stress-free and enjoyable. From planning to execution, they ensure everything runs smoothly, providing an unforgettable journey. Highly recommended for anyone traveling to Varanasi. Sanjeevan Oraon
Entrepreneur & Businessman
Kashiyatra.in is an exceptional travel agency based in Varanasi that offers outstanding travel services. From arranging accommodation to providing tour guides, they ensure a hassle-free travel experience. Their team is professional, knowledgeable, and courteous, making the journey even more enjoyable. Highly recommended for anyone visiting Varanasi. Amit Kumar
Assistant Professor
Kashiyatra.in is a top-notch travel agency in Varanasi. They offer excellent services to their clients, from arranging comfortable accommodations to organizing exciting tours and activities. Their knowledgeable and friendly staff are always ready to assist and ensure that their clients have a memorable and hassle-free trip. Highly recommended!
We Are
Here To Help You !
Get assitance from the best tour operator team of varanasi.
Detailed itinerary

Airport Pickup & Drop

Amazing Boat Rides

Darshan at Temples

Comfortable Hotel Stay

Supportive & Friendly Guides