Dashashwamedh Ghat is a main ghat in Varanasi located on the Ganges River in Uttar Pradesh. It is located close to Vishwanath Temple.
Dashashwamedh Ghat is one of the oldest, sacred, and most visited Ghat in Varanasi. It is famous for hosting the Ganga Aarti event where hundreds of devotees and travelers participate every evening throughout the year. Its close proximity to the famous Vishwanath Gali makes it a go-to ghat for devotees who wish to take a dip before worshiping Shivling at Shri Kashi Vishwanath Temple.
Dashashwamedh Ghat Evening Aarti Timing
| During Summers | 7:00 PM |
| --- | --- |
| During Winters | 6:00 PM |
| Total Duration | Approx 45 Minutes |
The Aarti starts soon after sunset and lasts for 45 minutes. The timings during summers are 7 PM because of late sunsets and in winters it started around 6 PM. 
Entry Fee / Charge for Dashashwamedh Ghat or Ganga Aarti
Please note that from the administration side there are no entry charges for the aarti or ghat. Depending on the space availability and the time one has reached the ghat one can witness the aarti.
There are different ways to witness the aarti – from the ghat (fees for special VIP seats -right next to the Aarti area where the aarti platforms are – charges could be any where around Rs. 1000 to Rs. 2000).
How to Reach Dashashwamedh Ghat ?
The Dashashwamedh Ghat is located in Godowlia region of Varanasi.
There are several methods to go to Dasashwamedh Ghat; depending on your budget, you can take an Auto Rickshaw or a Private Car.
By Auto Rikshaw : To get to Dashashwamedh Ghat from Varanasi Railway Station / Bus Stand, take an Auto Rickshaw for 'Godowlia' and pay Rs 20. Because no car is allowed beyond this limit, you can walk 5 minutes from Godowlia Market to Dashashwamedh Ghat.
By Car : You can hire a car from a bus stop or a railway station and have it drop you off in 'Godowlia.' From Godowlia, walk 5 minutes to Dashashwamedh Ghat because no vehicle is allowed beyond this point.
Distance between Dashashwamedh Ghat and Shri Kashi Vishwanath Temple – 650 m (4 minutes)
Distance between Dashashwamedh Ghat and Varanasi Jantar Mantar – 220 m (2 minutes)
Distance between Dashashwamedh Ghat and Manikarnika Ghat – 950 m (5 minutes)
Distance between Dashashwamedh Ghat and BHU campus – 4.1 km (12 minutes)
Distance between Dashashwamedh Ghat and Varanasi Cantt railway station – 6.8 km (23 minutes)
Distance between Dashashwamedh Ghat and Lal Bahadur Shastri International Airport – 24.8 km (41 minutes)
Evening Ganga Aarti at Dashashwamedh Ghat
One of the Varanasi's most mesmerizing and spiritually uplifting experiences is the Evening Ganga Aarti at Ghat, a ritual that has been performed for centuries along the ghats of Varanasi.
For Evening aarti, the most popular ghat is Dashashwamedh Ghat.
According to legends, Lord Brahma organised a Yagna (fire sacrifice) at the Dashashwamedh ghat to recall Lord Shiva from exile. Since then, every evening there is an aarti of the Mother Ganga. It is difficult to say that the aarti in current format is similar to the ancient format. The current format was started in the year 1991.
It is written in Veda's that participating in the Ganga Aarti purifies the soul and creates a positive environment all around.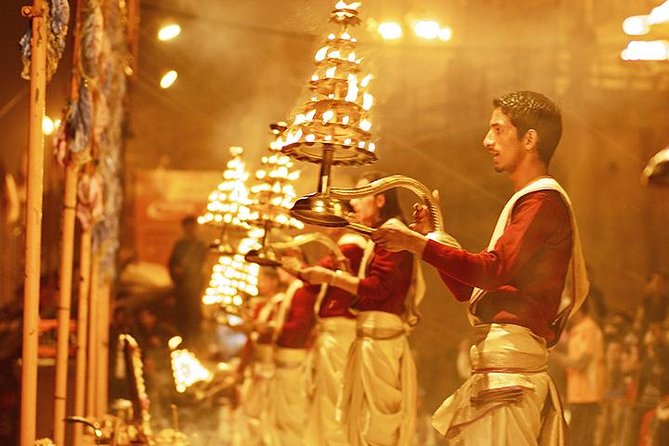 Ritual & Process of Evening Ganga Aarti at Dashashwamedh Ghat
The aarti is performed by 7 young learned Brahmins of Kashi (symbolizing the Sapta Rishis who offered their Puja to Maa Ganga).
There is chanting of Mantras and melodious bhajans in praise of Lord Shiva (Shri Vishwanath) and Lord Vishnu. The aarti is always carried out facing the River Ganga.
All the priests who are doing the aarti, wear the same outfit, a dhoti, a kurta, and a stole or drape (colours could be white or saffron or pink or gold or red or a combination of colours). The priests start the preparation before the aarti starts.
The young priests start the aarti by chanting mantras and blowing the conch shell (शंख). A picture of river ganga as goddess incarnate Maa Ganga (mother Ganga) is placed on the central platform of the seven smaller platforms. It is decorated with garlands and flowers.
The whole ritual follows a set sequence – incense and flowers are offered to the water (symbolically using hand gestures).
Post this the priests start to move the many layered huge brass lamp (with many small lamps which are lit) in a clockwise direction in a rhythmic manner. This layered lamp looks like Sheshnag (ruler of the nagas (snakes) having 5 or 7 heads). The Narayana form of Vishnu is often depicted as resting on Sheshnag, accompanied by his consort Lakshmi.
During all these incense burning, lamp movement etc. there is constant chanting of Mantras and Har Har Mahadev. The whole atmosphere is magical and even in so much crowd there is a feeling of peace. Something like peace in chaos.
Fresh flowers are offered to River Ganga or mother Ganga in the end.
Witnessing Ganga Aarti in the evening is a unique experience and should not be missed at all.
History of Dashashwamedh Ghat
The term "Dashashwamedh" translates to "the ghat of ten sacrificed horses," and the ghat is associated with a legendary event in Hindu mythology.
According to the legends, Lord Brahma performed a grand ritual called the Dashashwamedh Yajna (a ritual that involves the sacrifice of ten horses) at this spot. The yajna was believed to establish Varanasi as the most sacred city in Hinduism.
Historically, the ghat has witnessed the rise and fall of various dynasties and rulers in the region. It has been a hub of religious and cultural activities for centuries. The current structure of Dashashwamedh Ghat was built in the 18th century by the Peshwa Balaji Baji Rao. The ghat is characterized by a row of ornate steps leading down to the Ganges River, along with several temples and shrines dedicated to various Hindu deities.
Why Choose Kashi Yatra as Your Preferred Varanasi Tour Planner ?