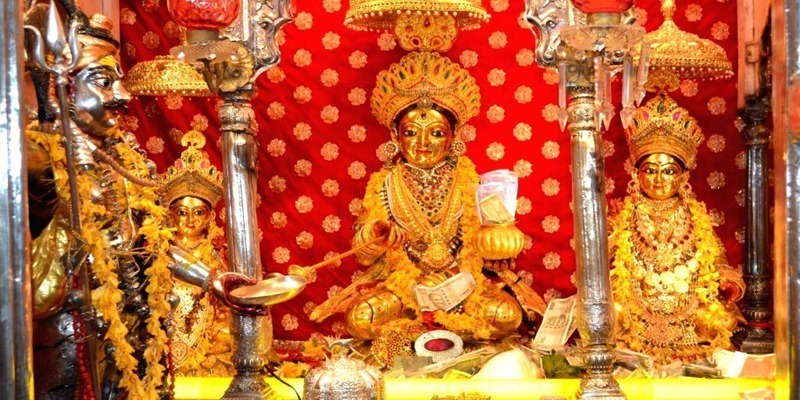 Story of Annapurna Temple, Varanasi | Legends of Annapurna Temple
The Legend of Annapurna Devi is a sacred tale from Hindu mythology that revolves around the compassionate goddess Annapurna, who is revered as the provider of food and nourishment. The legend holds great significance in the Hindu religious tradition and highlights the importance of feeding the hungry and practicing selfless service.
According to the legend, there was a time when Lord Shiva and Goddess Parvati were engaged in a playful debate about the nature of creation and sustenance. To demonstrate the significance of food and nourishment in maintaining the balance of the universe, Goddess Parvati decided to disappear and withdraw all her powers from the world.
As Goddess Parvati's divine energy vanished, there was chaos and famine across the universe. Crops withered, animals grew weak, and people suffered from hunger and malnutrition. The deities and sages became deeply concerned and pleaded with Lord Shiva to find a solution to this crisis.
Realizing the gravity of the situation, Lord Shiva set out in search of Goddess Parvati to convince her to restore her divine powers and bring prosperity back to the world. After a long and arduous search, Lord Shiva found Parvati on the slopes of the Himalayas.
In an attempt to rekindle her sense of purpose, Lord Shiva appealed to Goddess Parvati's compassionate nature. He reminded her of her divine role as the bestower of food and sustenance, emphasizing the importance of nourishing all living beings to maintain the cosmic balance.
Moved by Lord Shiva's words, Goddess Parvati agreed to re-manifest herself as the compassionate provider of food and nourishment. She took the form of Annapurna, a beautiful and benevolent goddess holding a golden vessel overflowing with rice.
As Annapurna, the goddess established herself in the city of Kashi (Varanasi), where she set up a divine kitchen to feed the hungry and needy. The temple of Annapurna Devi in Kashi became a symbol of abundance and generosity, and devotees from all walks of life came to seek her blessings.
Annapurna Devi's divine grace ensured that no one in Kashi ever went hungry again. She blessed the city with prosperity and abundance, and her temple became a place of solace for the hungry and destitute.
The legend of Annapurna Devi exemplifies the importance of recognizing the significance of food and nourishment in human life. It also emphasizes the concept of selfless service and highlights the compassion and benevolence of the divine mother. Even today, devotees from all over the world visit the sacred temple of Annapurna Devi in Varanasi to seek her blessings and partake in the free community meals offered there. The legend of Annapurna Devi continues to inspire people to practice compassion and generosity, ensuring that no one goes hungry in the world.