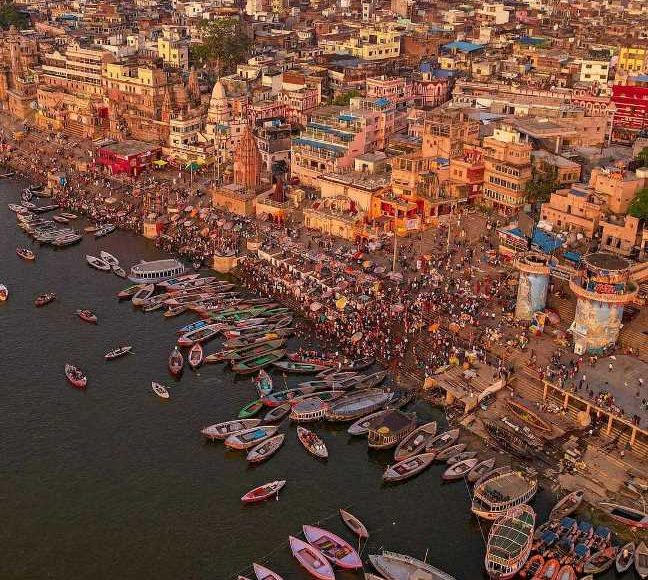 Varanasi is situated on the banks of the Ganges river, and the riverfront is dotted with numerous ghats, each with its own unique significance and history.
84 ghats of Varanasi
Assi Ghat
Dasaswamedh Ghat
Manikarnika Ghat
Harishchandra Ghat
Kedar Ghat
Tulsi Ghat
Bhimchandi Ghat
Choushatti Ghat
Saraswati Ghat
Bhadaini Ghat
Lalita Ghat
Mansarovar Ghat
Haridwar Ghat
Adi Keshava Ghat
Panchganga Ghat
Kshemeshvara Ghat
Raja Ghat
Shivala Ghat
Munshi Ghat
Darbhanga Ghat
Ahilyabai Ghat
Nishadraj Ghat
Niranjani Ghat
Shitla Ghat
Rani Ghat
Gularia Ghat
Dandi Ghat
Gau Ghat
Dattatreya Ghat
Mir Ghat
Madana Ghat
Siddhi Vinayak Ghat
Jaitpura Ghat
Vyas Ghat
Ram Ghat
Brijrama Ghat
Prahalad Ghat
Dhanvantari Ghat
Janki Ghat
Jageshwar Ghat
Gola Ghat
Panchakota Ghat
Rajendra Prasad Ghat
Prayag Ghat
Chaumsathi Ghat
Hanuman Ghat
Raja Gwalior Ghat
Ganga Mahal Ghat
Jain Ghat
Kedar Ghat (South)
Dashashwamedh Ghat (South)
Raj Ghat
Digpatiya Ghat
Gangadhara Ghat
Juna Raj Ghat
Gangotri Ghat
Meer Ghat
Phuta Ghat
Jageshwar Ghat (South)
Sankatha Ghat
Shivala Ghat (South)
Manasarovar Ghat (South)
Tripura Bhairavi Ghat
Chintamani Ghat
Rameshwar Ghat
Shivala Ghat (North)
Chet Singh Ghat
Kedar Ghat (North)
Manikarnika Ghat (South)
Kshemeshvara Ghat (South)
Asi Ghat (South)
Manikarnika Ghat (North)
Janaki Ghat (North)
Panchganga Ghat (South)
Shivala Ghat (North)
Teliya Ghat
Gulariya Ghat (North)
Ram Ghat (South)
Juna Akhara Ghat
Dandi Ghat (South)
Digambar Akhara Ghat
Manmandir Ghat
Mahanirvani Ghat
Adi Keshava Ghat (South)
The 84 ghats of Varanasi are a testament to the city's rich cultural and historical heritage. They provide a glimpse into the city's past and are an important part of its identity. The ghats are not only significant from a religious and spiritual standpoint but also have a social and cultural significance. They are a symbol of the city's prosperity and power and are a hub of activity and devotion. If you're planning a trip to Varanasi, make sure to visit the ghats and experience the magic and beauty of this holy city.