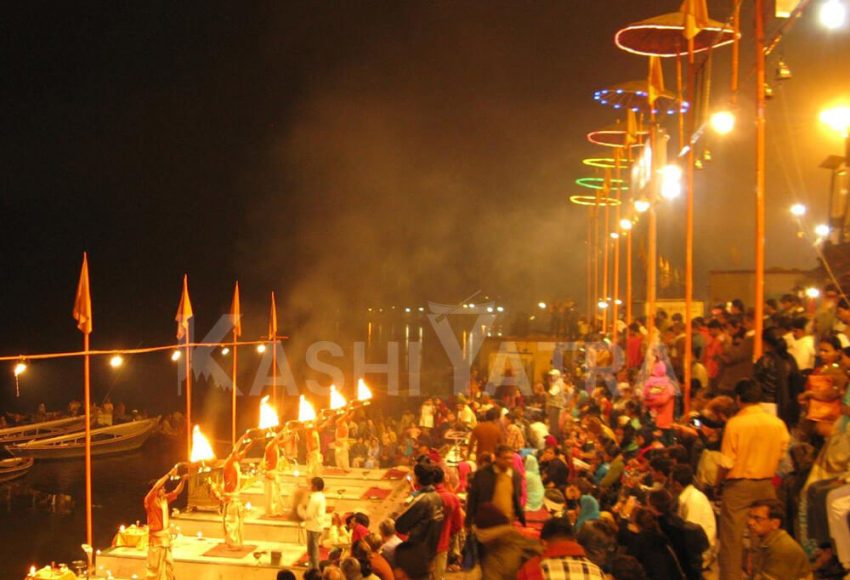 Evening Activities in Varanasi
Varanasi is one of the oldest continuously inhabited cities in the world and is considered a sacred city by Hindus, Buddhists, and Jains.
Varanasi is famous for its evening activities, which attract both locals and tourists alike.
Ganga Aarti Ceremony in Evening in Varanasi
The Ganga Aarti Ceremony is a daily ritual that takes place on the banks of the river Ganges in Varanasi. The ceremony is performed by priests who light oil lamps and incense sticks and offer prayers to the river. The ceremony starts at sunset and lasts for about an hour.
It is a beautiful and mesmerizing sight to witness, with hundreds of lamps floating on the river and the priests chanting prayers.
Boat Ride on the Ganges in Evening in Varanasi
A boat ride in Varanasi on the Ganges is a popular activity in Varanasi. The boats are available for hire from various ghats (steps leading to the river) and offer a panoramic view of the city from the river. The boat ride can be taken during the day or at night, and it is a great way to explore the city from a different perspective.
Street Food Tour in Evening in Varanasi
Varanasi is famous for its street food, and a street food tour is a must-do activity for food lovers. The city offers a wide variety of street food, including chaat, samosas, kachoris, lassi, and sweets like jalebi and rabri. Some of the popular food streets in Varanasi include Kachori Gali, Godowlia Chowk, and Lanka.
Shopping in Varanasi
The old city of Varanasi is a maze of narrow streets and alleys lined with shops selling everything from textiles and handicrafts to jewelry and souvenirs. The old city is famous for its Banarasi silk sarees, which are handwoven by skilled weavers. The markets are usually open until late at night, making it a perfect activity for those who want to shop in the evening.
Evening Stroll at Dashashwamedh Ghat
Dashashwamedh Ghat is one of the most popular ghats in Varanasi and is a great place for an evening stroll. The ghat is beautifully lit up at night, and there are various street performers and vendors selling souvenirs and snacks. It is also a great place to watch the Ganga Aarti Ceremony from a distance.
Varanasi offers a plethora of evening activities for tourists to experience. From the Ganga Aarti Ceremony to boat rides on the Ganges, street food tours, shopping in the old city, and evening strolls at Dashashwamedh Ghat, the city has something for everyone. These activities provide an excellent opportunity to explore the city's culture and heritage and make memories that will last a lifetime.